Most active topic starters
Who is online?
In total there is
1
user online :: 0 Registered, 0 Hidden and 1 Guest
None
Most users ever online was
29
on Tue 30 May - 4:54

Hi All,
Chilli greetings from down under. Autumn is finally here. Up until a couple of weeks ago we were still having 30C days. Unbelievable for this time of the year.
Well, the time has come to finally get stuck into the restoration of the old girl. I will be taking my time so pics will be uploaded accordingly. So far some rust in the usual areas, looks like it has been repaired in the past.
Need some advice about the dreaded swing arm pivot bolt. I have unscrewed it but it looks like the rubber sleeves in the bushes are turning with it. Any ideas on how to remove it?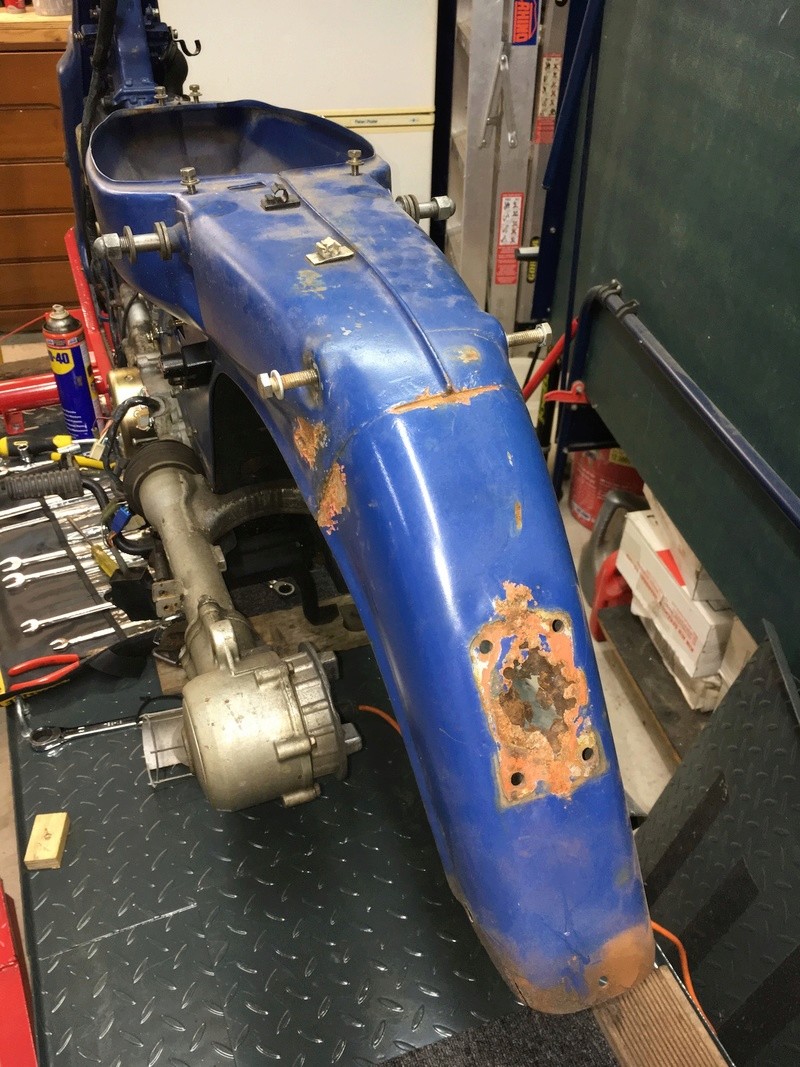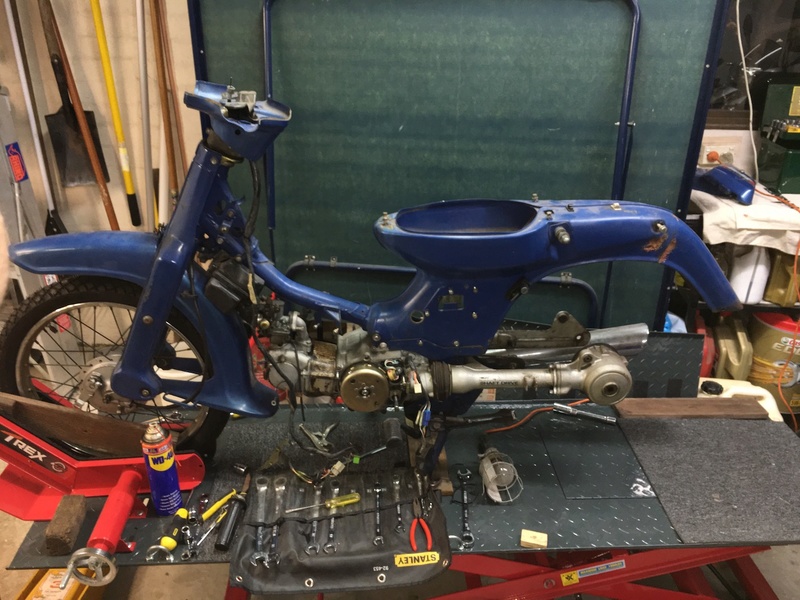 Thanks, Frank.
Last edited by 3hundredspartans on Tue 1 May - 20:29; edited 1 time in total
No easy way to get s/arm bolt out, looks like it has moved out about 1/2 inch You could try an electric or air impact tool on it to see if that will loosen it, At the last resort you may have to cut the swinging arm and try to drive it out, obviously that will destroy the s/arm so best to get a replacement before you do that.
Pity replacement frames are not available as that would be a better way saving welding etc on the old one. Someone must have some somewhere as the basic frame is the same as all models Jap home marker & Greece.
Thanks for the reply John but I put some thought into it and came up with using a G clamp and it worked a treat. Not hard at all but I did soak the bushes and bolt with WD40 overnight.
Using one end of the G clamp on the bolt head and bashing the other end of the clamp with a sledge hammer did it.
But now I have come across the centre stand spindle which won't come out. It turns with the stand so looks like it has also fused together.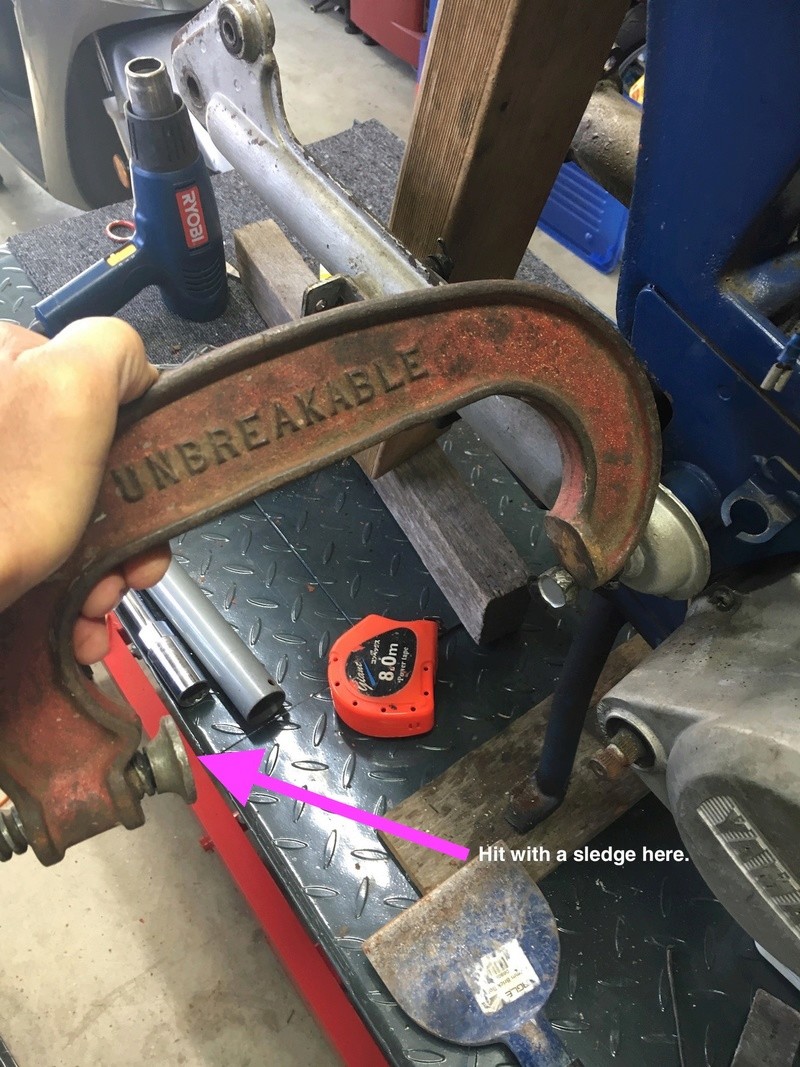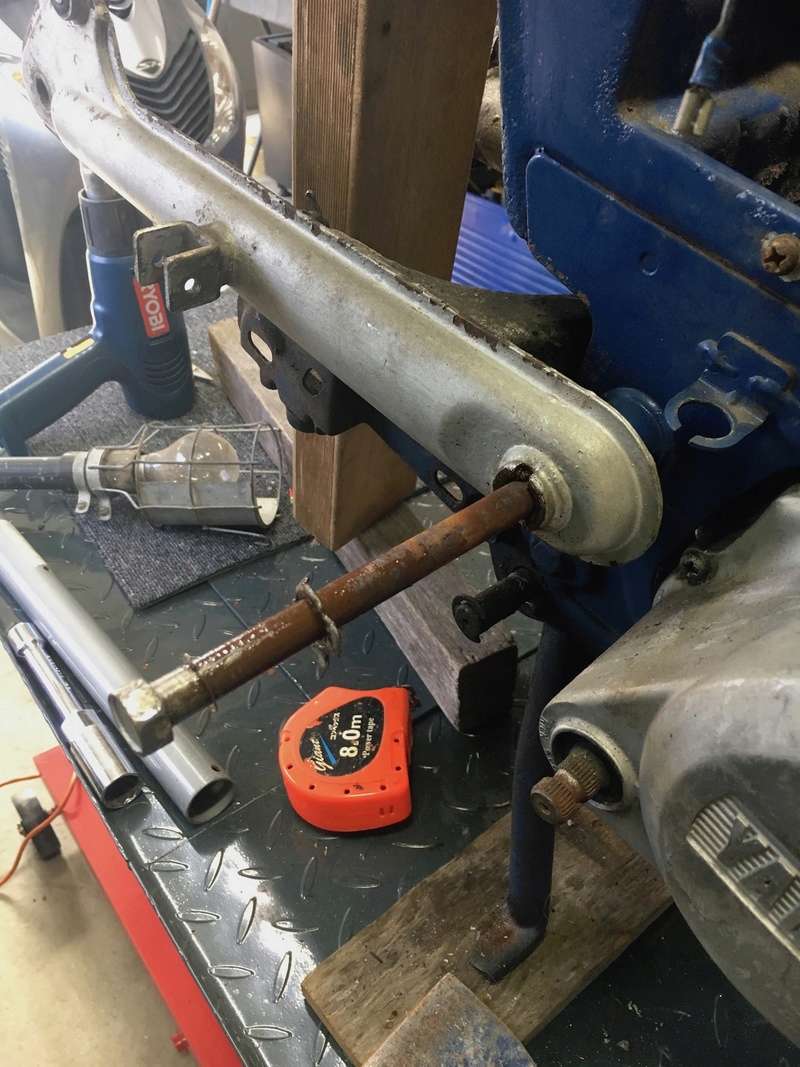 I think you were lucky there as you managed to get it started. If you cant unscrew it out of the drive side s/arm then this wont work. Mine wont even turn, only just twists the bushes. The only way would be to cut through the threaded end and make up an extractor to pull on bolt head, maybe after welding a piece of studding to head of bolt. As I am not stripping the bike down I just leave it.
As for stand, some heat with a gas torch should free that.



Posts

: 180


Join date

: 2013-05-13


Age

: 70


Location

: Llanelli, South Wales



My opinion is to pass it all through sandblasting, only in this way the damage caused by the rust will be seen.



Posts

: 116


Join date

: 2014-06-08


Age

: 47


Location

: Athens



What is really needed is a source of new frames
That would be a godsend John but as Duckrider says sandblasting is the only way here or to dip it in a bath of molasses and leave it for a couple of days. It strips the rust away.

Saying that, I will be handing the frame, swing arm and forks and a few other bits and pieces over to a sandblaster who is local and he can clean everything up for around £60. Interesting to see the result.

Engine casings and cylinder head, I will get them hydroblasted as it is the more appropriate material to blast alloy with.
Aluminum caps from the engine would be preferable not to be painted in silver,
but to become chrome-plated because the shoes will rub the color over time.
That's what I did with all the screws, axes, and various supports
So did the handle bar  switches.



Posts

: 116


Join date

: 2014-06-08


Age

: 47


Location

: Athens




---
Permissions in this forum:
You
cannot
reply to topics in this forum